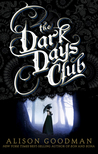 The Dark Days Club by Alison Goodman
My rating: 5 of 5 stars
I really enjoyed the imagery and tone of this book. The characters were delightful and well thought out.
We follow the life of Lady Helen, a debutante in 1812, London. Ever since her birthday, changes have been occurring in her life and she is introduced to the Dark Days Club. This shadowy organisation investigates and contains demonic entities.
Over the course of the novel we find out more about her mother and father, who were killed when she was eight.
Throughly engaging and well researched, it feels like you are back in 1812. The manners,speech, and even the food were realistic.
I could not put this book down. Please hurry up with the second book as I want to see if my suspicions are correct as to the identity of the Grand Deceiver is.
Go out and buy yourself a copy of this book, you won't regret it